The world is bigger than we could ever possibly imagine, and it's scary to think we will never even scratch the surface in this lifetime. Even if we do travel to the same places, we see the world through different eyes, creating a unique experience. As I dive head first into travel, I am inspired by each of your adventures and am starting Sonderlust Secrets as a series showcasing this. Interested in being featured?
Mingalabar!! (That means "Hello" in Burmese)
I thought I've had enough after seeing too many temples in Thailand, Cambodia and Vietnam. Then, there's Bagan – an ancient city in Myanmar (formerly known as Burma) that is getting a lot of popularity to travellers nowadays.
Tourism has only been opened in 2011 because the country was previously headed by military government.
Remember the farmland of temples spread all over the misty landscape, mountains in the background and hot air balloons floating from the distance? For sure, you've already had a glimpse of Bagan in Pinterest, Lonely Planet cover or top destinations to visit articles. I tell you, they are all real and MORE! I have taken hundreds of photographs, but they can't fully justify what we have witnessed.
There are over 10,000 temples and pagodas in Bagan during its height between the 11th and 13th century. Now, there are only about 2,200 left because of the frequent earthquake around the region and of course, old age. What's left is still breath-taking and inexpressible.
We went on Easter break last March, Bagan's shoulder season and the start of the dry weather. For three days, we explored temples, climbed pagodas, marvelled at the vast landscape and learned history.
I obviously don't remember all the names of every temple, pagoda, or monastery we went into but I made sure that I got the names of my favorites.
Yes friends, I am not keeping them secret and will share it to you. 🙂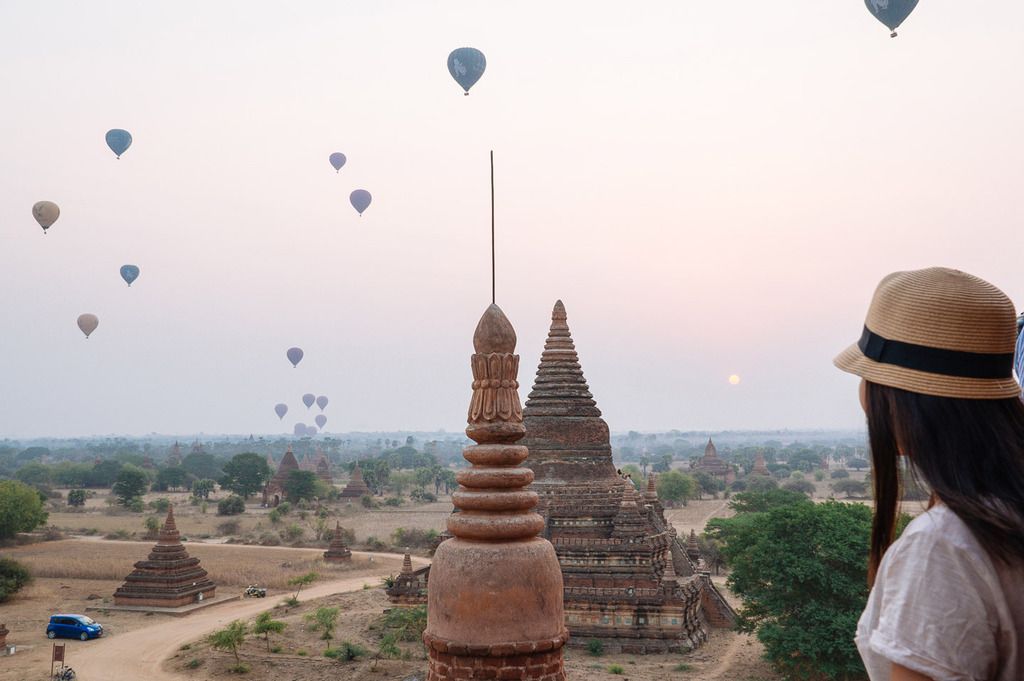 Favorite Sunrise Spot: Bulethi Pagoda
I am not usually afraid of heights but climbing Bulethi made me feel a bit scared. The steps are high and narrow, just about half the size of my feet (I'm size 8). There are no metal rails to grab on, too. You will need your trusty pair of hands to keep hold of the bricks while ascending.
At the top, there is no fence or wall to make you feel safe. Be careful not to slip or push (if there are other tourists) when you walk around the stupa. Don't worry, with the view you're about to see, it'd be totally be worth it.
Favorite Temple: Ananda Temple
The most famous, most beautiful and best preserved temple in Bagan. It has four standing Buddha statues in each of the corners of the temple. It also has the finest examples of Burmese architecture, stone sculpture, wood carvings and wall drawings. They say, "You've never been to Bagan if you haven't seen Ananda Temple".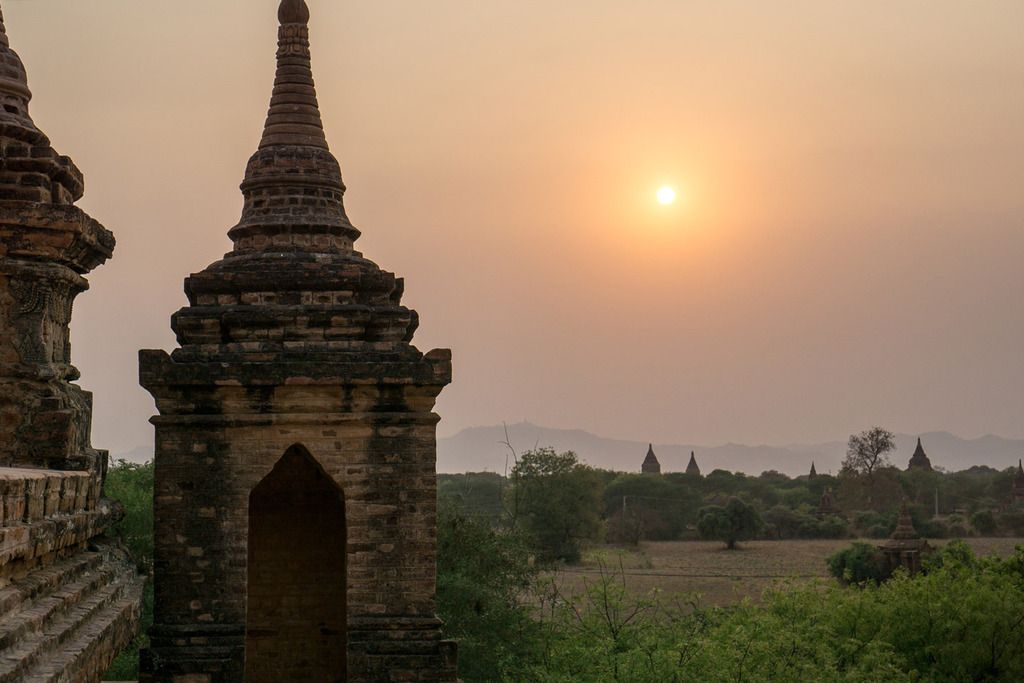 Favorite View: Lawkaoushaung Temple
If you can find the key holder (tip: he's hiding behind the temple *wink*), this temple is blissfully empty of tourists. It's a perfect place to watch sunrise or sunset, or go on just about any time of the day. From the top floor, you can see other nearby small temples which make for a good viewpoint when you take your photos.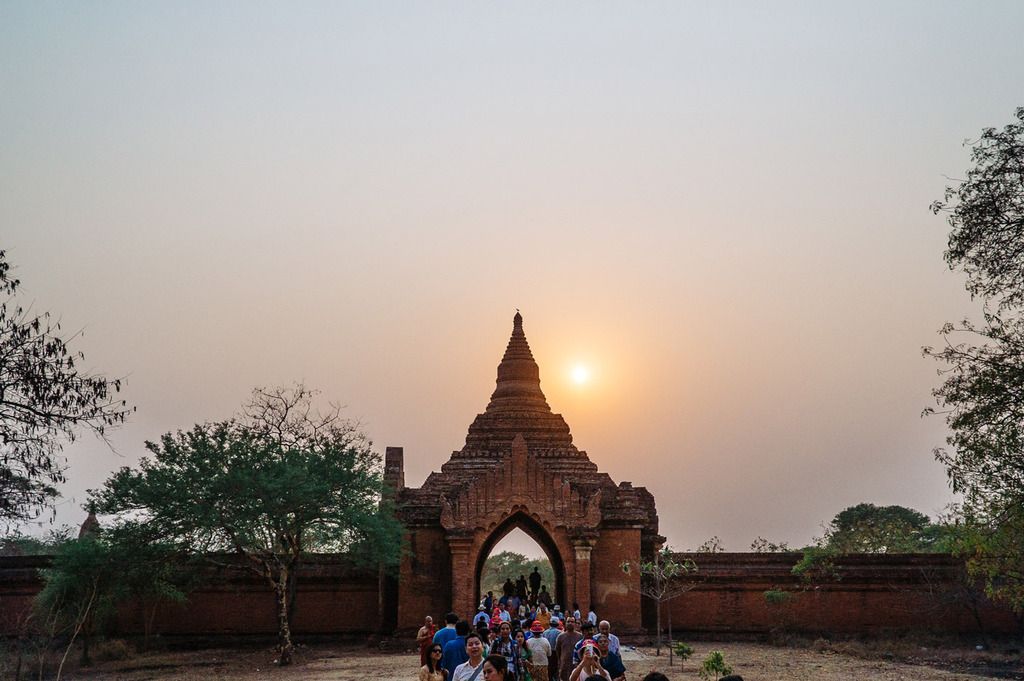 Favorite Sunset Spot: North Guni Temple
The Shwesandaw Pagoda, also known as the Sunset Temple, presents great scenery of Bagan. It's beautiful without a doubt but it can really get crowded at sundown. Try to head to a less jam-packed temple to watch the sunset like North Guni. It's a much better experience than having to compete with other tourists to get a decent spot.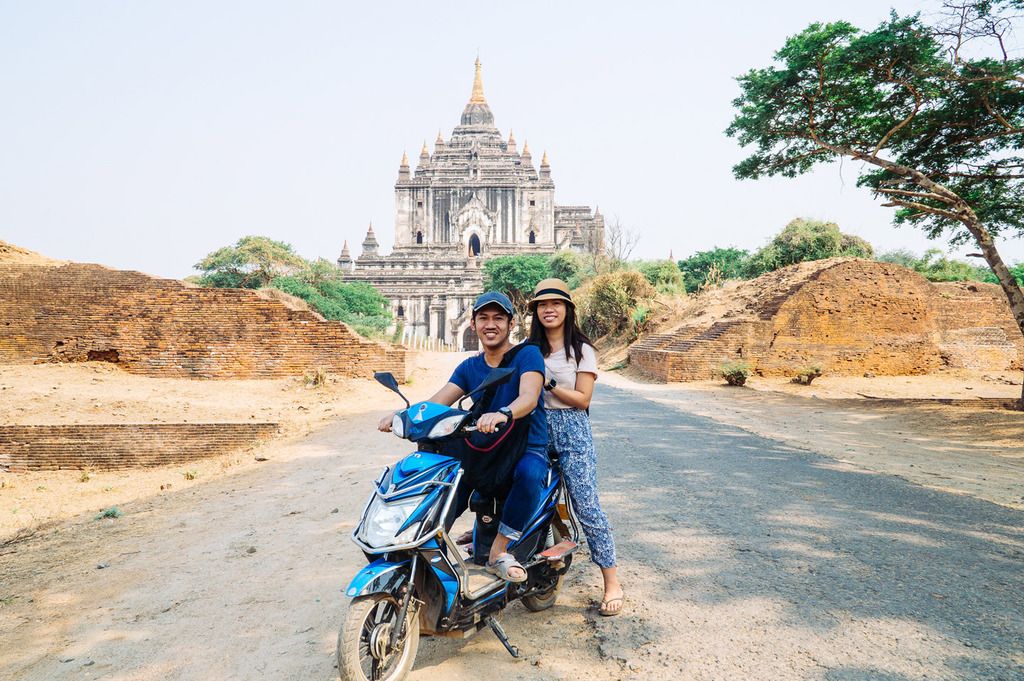 Favorite Transport: Driving around Bagan in an eBike!
There's no public transport to go temple hopping. You can either take a tour bus, or rent a private car, taxi, horse cart, traditional bike, or e-bike. It was the start of summer so it could get really hot, like 45-degree Celsius kind-of-hot, by noon. Instead of sweat pedalling from temple to temple, choose an e-bike or electric powered bike that could last a day when it's fully charged.
With an e-bike, it's simple to get around and reach hidden temples in narrow or unpaved roads. You can stop and go as you like, and can easily mingle with locals too.
Favorite Random Sight: The Novice Monks
Bagan also offers amazing opportunities to witness the Buddhism way of life. One morning, we chance upon some cute, novice monks who were on their daily ritual to collect food from the villagers. It's their only meal for the day and they are not allowed to eat after noon. During the rest of the day, they pray, help clean monasteries, or guard the temple.
For children who usually love to run around and play, these novice monks are impressively disciplined.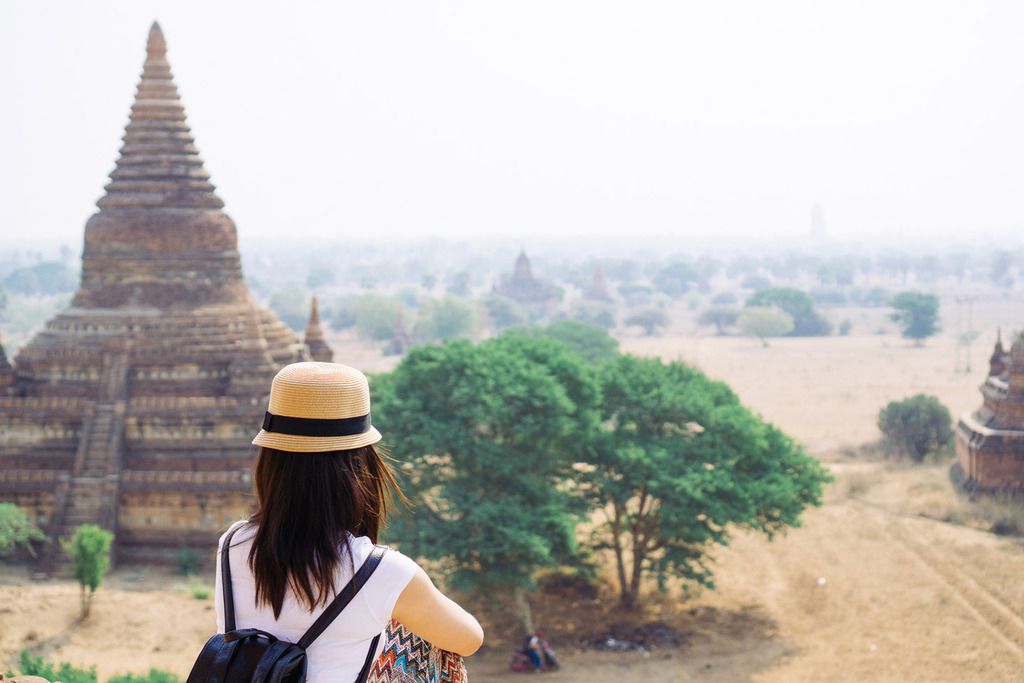 Bagan is one of the most beautiful and amazing place I've ever been… and I didn't expect to feel this way.
Melai is a Filipina expat living in Singapore. She's a dreamer, doer, and an ordinary 9 to 6 worker who travels with a full time work and third world passport. Yes it's possible! She shares stories from her travels around the world on her blog, Loved and Wanderlust and inspires wanderlust on Instagram.