Think back to your first months of blogging. What first drew you to this admittedly odd past time? A form of self-expression? The money? The friendships? Beyond a hobby, blogging has become a true passion of mine, and the community of amazing women is what has kept me around. You have encouraged and inspired me to be a better person, to share my heart along with my odd quirks.

If I could be IRL (in real life) friends with each one of you, I would in a heartbeat. Of course, that's not quite realistic considering we live on opposite ends of the country and even the globe. My Coast to Coast map revealed far more Ohio bloggers than I realized and I wanted to bring us together in one place.
3 months out
1. Check out Bloggers Coast to Coast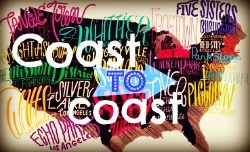 Coast to coast is my solution to bridging the divide between internet and real life relationships. Currently 3,000 and growing, it is a great resource to find bloggers around your area to invite. E-mail me if you'd like temporary access to my spreadsheet. Do a quick Google search on local bloggers or networks for an additional list of blogs such as Girl About Columbus.
Compile your findings in a spreadsheet with each blogger's contact info (name, e-mail, blog name and URL) to make sending out invitations easy as pie.
2. Recruit a helping hand
At the start of planning this event, Holly was the one blogging friend I had kept in touch with in real life, so she was the easy choice. Brainstorm ideas on a GoogleDoc which is easily edited without having to e-mail back and forth nine million times. Holly was extremely helpful in making my vision a reality.
3. Decide on a vibe
Do you want to keep things casual, a fun chance for networking and bouncing ideas around or more structured with speakers and workshops? Would outdoor space be appropriate or do you want the event to feel more like a happy hour at a bar or a serious meeting in a hotel or conference space? Regardless, the event should center around building relationships– about collaboration, sharing and developing thoughts, and strengthening your community.
4. Find a venue
Consider an accessible location. I chose Columbus, which was perfect. My hometown is smack dab in the middle of Ohio and many bloggers were willing to travel two hours from Cinci or Cleveland. Make sure the establishment will accommodate the number you plan to invite and will not be a distraction, and vice versa
What amenities are required? Is there adequate parking? Do they allow outside food? Do they have an open bar or drink specials? If you are on a tighter budget, you can often get free event space if you go with a cash bar. This works well for weekday events where the bar would otherwise have low traffic.
5. Set a budget
Decide if you will need to charge for the event. Do you have to pay for the venue? Are you providing food and drinks? If not, make it a free for all, as Holly and I did, then encourage everyone to bring their favorite hors-d-oeuvre or dessert. This adds a personal flare while avoiding turning off people for asking for money to attend. May I recommend my berry cobbler or mini-7 layer dips or Katie's bagel dip?
6. Send out an e-mail to gauge interest and availability
It can be difficult to coordinate everyone's schedule since many bloggers have time full time jobs, family obligations, etc. Weekends are the obvious choice, and the afternoon worked well for us.
Send out a When is Good with 2-3 potential dates in mind with a message such as:
We are looking to gauge interest on this event before we get too far into planning. We want to get the ball rolling on this ASAP so everyone can get it on their calendars! Feel free to pass this info along to any bloggers we may have missed. We are open to any and all suggestions you may have so please throw them our way! We look forward to meeting you!
**Use Bcc: rather than Cc: so people are not bombarded with a million "reply-all's" when you are the only one who needs the responses. Consider CC'ing your co-host each message so she's kept in the loop.
2 months out
1. Set a date
Determine the most popular choice from WhenIsGood results. Set the event date at least six weeks in advance to allow time for the word to spread and to give attendees time to make arrangements with sitters, etc.
Find out what is going on around town. Steer clear of dates when a huge sporting event or fair is occurring because: turnout may be lower and traffic could be worse. But certain events can work to your advantage as a transition out of the meetup. Many of the gals at my meetup headed right down the road to Digfest, a street festival showcasing local beers, wines, and food.
2. Send out formal invitations
Not a graphic designer by trade, made this bad boy on PicMonkey. #amateurhour
Include the name and date of the event in the subject of the e-mail so people don't miss out. Give bloggers an idea of the "feel" of the event in the invitation. Include links to nearby hotels, parking details, and fun places around the city for those unfamiliar with the location.
EventBrite
 is a simple tool I discovered after the fact, which would have saved me a lot of sanity, due to a plethora of useful features:
Create a branded event page to manage the RSVP and provide your event details.
Keep track of the number of attendees and contact info in real time.
Resend to guests that have not responded to the original invite. That way, you don't need to re-enter email addresses or send too many emails to guests who are already attending.
Add to my Calendar button.
Share buttons. Email to friends, tweet it, share it on LinkedIn, and like it on Facebook
Automatically schedule a brief reminder email to send to your attendees 48 hours before an event
Collect Custom Information: ie. guests meal choice or t-shirt size, then exportable to a spreadsheet.
Generate customized name badge templates for all registered attendees.
If you go my slightly more complicated route, use a 
Whosin
 to get a final headcount.
3. Create a button
Create a button
in PicMonkey that bloggers can display on their sidebar so more eyeballs are on the event.
4. Generate a buzz
You need to build and keep the excitement level before, during and after the event for bloggers and influencers to stay excited. Blog and tweet it like crazy! Create a hashtag and encourage bloggers to use it in all their shares. This makes it easy to engage with others pre, during, and post-event. (Ours was #OHBloggers) People will retweet to get the buzz going. I found many more people to invite this way!
1 month out
1. Create a tentative agenda
You want the event to have structure but be willing to be flexible and alter it as the event progresses.
Ice Breaker to get people loosened up.
Keep presentations concise, visual, and interesting.
Time to fill out Blating Profiles.
Raffle prizes.
Make sure there are plenty of opportunities for unique pictures and content.
2. Craft Blating Profiles
I wanted a fun way to get everyone familiar with each other up while also keeping us in touch after the event. My solution? Blog dating profiles! Feel free to use my template as a guide and personalize the questions to your crowd! Consider calling it: The Blating Game, Blate me, maybe? Blaters Gonna Blate, BlaterAid. You're welcome.

I put together a few special swag bags and drew random profiles to win them. If you play a game with winners, these work well as prizes.
3. Buy supplies
Nametags
Pens
Swag bags. I included trial size beauty products, local items, chocolates, stationary. Ask around for sponsors or etsy owners to donate contents of swag bags. (ie. coupons, gift certificates, homemade goodies, samples) or check your Target dollar bins!
Paper products
Print signs with the official hashtag to display at the event.  
The big day
1. Greet guests
As a hostess, it can be difficult to feel like you need to greet incoming guests while keeping others entertained; especially if the event is Open House style and people are coming and going as they please. This is where your co-host can help take the load off! But don't feel guilty if you have to excuse yourself for a moment from a conversation, your guests will understand!
2. Make people feel comfortable
As much as we gripe and moan about ice breakers, they works wonder to get everyone relaxed and familiar with each other. Ease the social aspects of the event because not all social media enthusiasts are social by nature. If you notice anyone off at a table on their own, go talk to them one on one. They will thank you. Ps. Alcohol can also cure the social anxiety, but keep it to Patti's two drink maximum.
3. Network
Write both your real and blog name on nametag so people can match faces to blogs. When you get a good conversation going, slip a business card their way to ensure you keep in touch after the event. Who knows, you could have met your new BlogBFF!
1 week later
1. Send out a thank you
Let your guests know that you appreciate them attending and making your event a success (hopefully this is the case). A simple e-mail will do.
2. Ask for feedback
It is always helpful to get an outsiders perspective on what they liked/disliked about your event. Be open to constructive criticism. Even if you never host another meetup, it is nice to know your areas of improvement and to make your guests feel as if their opinion is valued which will only strengthen relationships.
Lessons learned
Business cards are a must!
At first we had wanted to book a hotel and do an overnight but that may be too big of a commitment and too pricey for some, so decided to hold it at one of our houses.
I wish I had hired a professional photographer– It was hard to get in photos when I was the one taking them. Plus, it took time away from connecting with my guests.
Realize planning events take time. A lot of it. (I'd say I spent five 8-hour days) Be sure you have the energy and resources to devote to it before committing. I'm looking at you, BP.
Bring an open mind and a smile!
Have you ever hosted an event? Any tips and tricks you would add to this list?

Tweet