I'm not sure what my fascination is with Cinco de Mayo. I don't have a Mexican bone in my body, but I did take 4 years of Spanish and traveled to Mexico on multiple occasions, so I guess that counts? My birthday just happens to fall the day after, so what better excuse to hold a

Cinco de Drinko Fiesta

in la Casa de mi? It's a shame that it falls on a Monday this year, so I'll just have to hold it on Tres de Mayo.
Sure, Cinco de Mayo is yet another excuse for us Americans to drink copious amounts of alcohol in the name of ancestors that aren't ours. My

21st version

was a huge success and I intend to make this one even better. My housemates poke fun at me because I start planning a college party month in advance and go all out with food and drinks. Hello 8 tubs of Margaritas and no Natty in sight! What kind of college party has food? My mom's hostess with the mostess have rubbed right off on me.
1. Piñata Cookies
13. Best party favors ever?
15. Tequila shots, duh!
So maybe my college edition will not be this legit. But pretty darn close! Cinco de Mayo is right around the corner. Let's fiesta like there's no ma
ñ
ana! Ole Ole!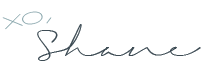 Tweet