I'm sure we are all guilty, at one time or another, of pursuing an opportunity which we didn't feel aligned with our personal values. This could be in blogging, our careers, or even in a group of friends. And if not, please teach me your ways.
Well, last night, a well-established brand approached me for a sponsored post. Sure, $200 straight to my pocket seemed like a no brainer, especially to a broke college girl, right? I was ready to dive right in, but then got to thinking: The product did not fit with the message I aim to convey on my little corner of the interwebs. I'm not going to promote something I simply don't feel passionate about. People will be able to tell and think less of me.

Let's talk about living authentically.
As humans, we do what works. There must be some sort of payoff attached to each of our actions. Be it for a financial motive, a desire for growth, reputation, acceptance, praise, approval, love or companionship. Fear of rejection can also be a huge motivator. If your need for immediate gratification (as in the case of

addictions

) outweighs your willpower, you will be willing to accept a small payoff now rather then a larger payoff down the line.
The questions we need to ask ourselves: Where should I draw the line? Will this venture diminish my credibility? When is it okay to just say no?  This answer can be somewhat blurred and of course there is no definitive right or wrong to it. This is where our own judgement and morals come into play.
So off on a little tangent here, bear with me. I feel like I do a million things sub-par to mediocre, yet am not exceptional in any one area. And that sucks. If you think you can conquer the world, think again sister.
You will feel overwhelmed, frustrated, and inevitably eventually burnt out.
Sitting here at 21 years old, I feel like I should have a grasp on my biggest passion in life. One thing I'm certain of: my day job will probably never be my passion. I am a finance and business analytics major. Numbers are a snooze fest, obviously. The way I knew I was destined to make money. But I've come to the conclusion that money isn't everything if I lead a boring and unfulfilled life.
In my last two semester of college I've made a proactive effort to pick other courses outside of my comfort zone that I knew I would enjoy. Insert: sign language, digital photography, glass blowing, rock climbing, and wine tasting. I know what you're thinking…wait, is this girl in college? Trust me, I worked my tail off the first 3 years getting all my necessary courses in to double major. Now it's finally time to relax and enjoy a bit of life before the real world hits like a brick wall come May.
Most of us spend our lives slave to multi-tasking, checklists, and spreading ourselves thin. This only leads to frustration when we fail to progress any further toward our goals. How ironic is it that we could be able to achieve success, not by working more, but by working less? It's important to have the courage to 

make the change

 when you realize the passion just isn't there.
Do me a favor and give up trying to change yourself to win the love and acceptance of others. Quit 

apologizing

, quit making excuses. A passion isn't only worthwhile when acknowledged and valued by money, employment, and status. Let's face it, blogging will probably never become a sustainable career for me. But, it is an incredibly freeing feeling to separate my passion from my finances. 
On chasing your dreams & finding your true passion:
1. What do you value in life? Pick a few off of this

list

and rank them by importance.
2. What are you drawn to in your free time? For me, this includes blogging, scrapbooking, tennis, writing and photography. Those things I don't ever feel obligated to do make them oh so much sweeter.
3. What are your dominant character traits? Introvert? Extrovert? More of a thinker or a feeler? A

Meyers Briggs

test will help you discover so much about your personality, aptitudes, and directions to take your career. ESTJ in the house!
4. What are your natural talents and strengths? If the things which you excel at happen to diverge from those that you love, try to find a way to intersect the two activities. Find someone to team up with that has complementary strengths and weaknesses to balance each other out seamlessly.
5. Realize success is a never-ending process, not a state of being. Keep on keeping on day in and day out for that you are truly passionate about. But be sure to take breathers, you deserve it.
Now if an opportunity arises that you get downright giddy about and you know in your heart of hearts is something you are passionate for, go for it, balls to the wall. Don't let them pass you by due to fear of the unknown. Heck, I'm moving across the world to Australia for a job when I graduate!
Take this week for example:

Megan

posted a need for help juggling some of her blogging tasks. I honestly figured I had no chance of being hired but low and behold, here I am as a proud new marketing assistant to a fashion blogger I admire and adore! Through this venture, beyond me helping grow her blog, I will be gaining experience in working with brands, building community, and collaborating with sponsors. By doing all of the things I already love. The definition of a win/win relationship.
I don't know about you, but I'd much rather live a life of oh well's than what if's. Go confidently in the direction of your dreams, live the life you have always imagined. Live fearlessly.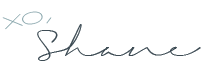 Tweet