The awkwardness that is blogging: let's discuss.
I'm already an awkward person by nature and then I gotta go throw a blog into the mix? Smooth move, Shane. I suppose since I've been blogging for

so long

now, it just seems natural to me not to talk about Whispering Sweet Nothings in real life unless someone else voluntarily brings it up. I will literally get the deer in head light look then proceed to turn bright red when I'm first discovered. Then get more and more comfortable as the conversation progresses (or comes to an abrupt halt).
It's not that I'm ashamed, I'm actually quite proud of how far this baby has come in

three years

. When I tell people I'm a blogger (or they find out on their own, much to my dismay) I can expect one of two basic reactions:
a. That's so neat, tell me more! How can I get started? What's your site? I want to explore it!
b. Ew, blogging?

Who does that

?
Then the inevitable follow up Q's:
What do you blog about?
I'm not a style blogger, not a mommy blogger, a foodie, fitness, or DIY'er. This makes it all the more difficult to verbalize the "point" of my blog. And although I make a bit of money from sponsorship's, I clearly don't do it for a living.
Do you blog about me? Unless you're a psycho ex or a close friend, the odds are, no.
Do people actually read it? Eh, that's up for debate if all 2 grand of my followers actually "read" this crap. Shout out to those of you who interact via comments and shares!
Yeah, it gets weird. But only if you make it weird.
My housemates, for example, think I'm crazy for this non-conventional hobby. Why are you constantly connected to social media? Why do you get packages delivered every other day? Why are you taking pictures? You gonna blog about this one too? My mom used to freak out that I was going to Blogger meet-ups with fellow Ohio girls that I'd never met. Shane, didn't you learn anything from Catfish?! I reassured her that I could practically see these bloggers entire lives laid out and it wouldn't be so simple to make that all up as in a fake Facebook profile.
Now I know all you ladies get it, being bloggers yourselves but t's really difficult for me to explain my passion to those who are not bloggers. Let's face it, what we're doing here is not all that logical and a tad nerdy. "Imaginary" friends? Isn't it a pointless, waste? Why don't we spend our time devoted to blogging with real life people?
I have a separate

personal twitter

account, so as not to annoy my college friends with my blogging interactions, giveaway entries, and constant retweets. So of course I was in horror this weekend when I accidentally replied to my boyfriend's best friend's tweet via the wrong account. Curse you Hootsuite! I quickly recommend he unfollow my blog account unless he wanted to partake in a constant stream of women dishing back and forth.
And of course it would happen to be on the day my

10 Reasons it's perfectly okay to be single

post went live. When I am the farthest thing from single. I made his friends promise not to out me so that I could tell him on my own time. E and I went to see the movie Her together and I could tell he thought it was a tad stranger than I did, the affection for an operating system. I could just as easily fall in love with this blog 😉
Sometimes it can get a tad irritating when new people discover my little corner of the internet. Like this is my place to rant, rave, and vent, free from judgement. I feel like they're peering into my soul. Yes, it seems ironic to share more "personal" things with all of the interwebs, right? Honestly, I would probably sensor myself more if I knew exactly who was reading my stalking my blog.
So what exactly is the point of blogging?
I blog for release, for inspiration and for community. Blogging has given me a platform to share my thoughts and opinions, make new friends, create new experiences.

I can document life events and my growth over the years

. It's nice to be able to take a virtual trip back down memory lane every so often.
I have also met an amazing community of people from it…as stupid as that sounds to non-bloggers

.

I never would have imagined that I'd actually meet people through blogging, let alone start friendships. I've connected with some amazing women over the last couple of years that I'm so honored and proud to know!
I endeavor to inspire women through my blog. This is why I began the Operation Beautiful project, "interned" with

Speak Now

: for young Women
Empowerment.
It creates opportunities to work with brands I love.
Blogging has brought out the inner-entrepreneur in me!
I feel like I should throw a Coming Out party but that may be a tad extreme. At times, I feel left out that I don't have a husband to snap a whole roll of pics of my outfits every day and feel like maybe I should be more open about it. I can see this being our conversation over dinner…
My words of advice: Don't ever be ashamed to admit that you blog, it's your outlet to do as you choose! Rock that blog woman!
psttt. While you're here, if you enjoy what you're reading…do me a solid and cast your votes! I was nominated in 4 categories!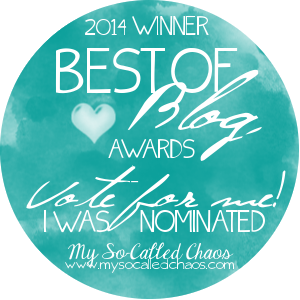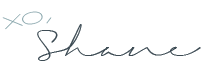 Tweet