It's no secret: I've struggled with my weight all of my life. In the opposite direction most people do. I was extremely self-conscious of my chicken legs and flat chest in high school. I would resist going to pool parties just at the thought of having to show off my bod in a bikini. In the same way people feel too fat, I felt an inadequacy not having curves. As controversial as "fat shaming" is, I think many people fail to realize that skinny bashing can feel just as hurtful on the opposite end of the spectrum. I know one day I will look back and wish for my super-sonic metabolism back, but for now, it can really suck.
I'll admit, growing up I was a tad chunky but not necessarily overweight. When I started running track in 8th grade, it was the first time I'd ever had physical activity in my life, so began shedding the pounds at an alarming rate. I was in and out of various doctors from endocrinologists to thyroid and nutritionists. The last resort was an eating disorder clinic. My parents did not want to believe this was the case (it wasn't).  
Today begins

National Eating Disorders Awareness week

. While I was never diagnosed with an eating disorder per se, I qualified because I had lost 25% of my body weight. I remember screaming at my mom for sending me to a "crazy place" and for not believing her own daughter was fine. I met many suffering souls through my appointments and therapy sessions. It was frightening yet eye opening seeing girls not only physically, but the mental toll the illness had taken on them. Their thinking was truly "disordered." Quite literally, an anxiety over food and every little morsel they put into their body.
We are constantly bombarded in the media with the ideal body and what perfection is supposed to look like, it is no wonder young women (tweens, teens, twenties) fail to see beauty when looking into the mirror. 
Heck, Barbie has been the most popular toy for young girls since 1959. 

If Barbie was an actual woman, she would be 5'9" tall, have a 39" bust, an 18" waist, 33" hips and a size 3 shoe, and weigh 110 lbs. This would be a

 BMI of 16.24 and fit the weight criteria for anorexia. She likely would not menstruate. 

If Barbie was a real woman, she'd have to walk on all fours due to her proportions. Even worse, a 

Slumber Party Barbie was introduced in 1965 and came with a bathroom scale permanently set at 110 lbs with a book entitled "How to Lose Weight" with directions inside stating simply "Don't eat." But in more recent years, a Plus-Size barbie has sparked controversy. Can't we find a happy medium?
For many, the disorder is not about feeling "fat" but rather a need for control in their lives when they feel everything around them is in shambles. For others, it's a need for perfection and order. It truly is a mental disorder. 
A staggering 1 in 10 teens will struggle with an eating disorder in their lifetime. Beyond the classic anorexia and bulimia labels, some gray area exists known as EDNOS which may include binge eating, night eating, orthorexia (avoding "unhealthy" foods), purging, and body dysphoria (over-exaggerating parts of their bodies, which to the naked eye of an outsider seem completely normal) Very rarely can someone be classified 100%, so don't deserve to be labeled as such. Yet they fall through the cracks for treatment not meeting the criteria insurance deems sick enough to need help. 
Like an addiction, full recovery from an eating disorder never really happens. It's something that you live with for your entire life. You must make the effort to steer clear of potential triggers that may send you back to your old ways. Just as one can become a "functioning alcoholic" they can also become a "functioning" anorexic or bulimic. R

ecovery can't be de

fined solely by failure to engage in self-destructive behavior but rather being able to engage in productive behavior and healthy relationships. If you know someone suffering,

here are some important things 

not to say

 

to them.
Earlier this year, Urban Outfitters released an "Eat Less" shirt that of course came with intense controversy. What were their designers thinking?  As a strong advocate for women's self-image, Sophia Bush

lashed out

:"To promote starvation? To promote anorexia, which leads to heart disease, bone density loss, and a slew of other health problems, not least of all psychological issues that NEVER go away? Shame on you." 
She later adds,
"You should issue a public apology, and make a hefty donation to a women's organization that supports those stricken with eating disorders. I am sickened that anyone, on any board, in your gigantic company would have voted '
yes
' on such a thing, let alone enough of you to manufacture an item with such a hurtful message. 
It's like handing a suicidal person a loaded gun. You should know better."
Sophia began the Zero is Not a Size campaign and stands behind it despite backlash: "There's no universal size chart. So what does it even mean to be a size zero? What does it mean to be a size four, a size ten? It doesn't mean anything. Again, I don't believe that beauty fits into one box and I don't think that it matters. I think that if you're healthy, if you take care of yourself and enjoy your life, that the number on the tag in your sweater should not be what defines you."
Let's all take a vow in the movement for radical self-acceptance. Let's stop the fat talk today. 

Food is 

not the enemy

. Quit feeling guilty over that extra slice of cake, here are 

101 things

 more important than what your body looks like.
I feel that a woman is the best version of herself at the weight which they feel

natural and "free

". 

All sizes are beautiful. 

But please do remember, at the end of the day you are way more than anything a number could begin to convey. 

You are a woman. And a beautiful one at that!
The funny thing about eating disorders is that they don't feel like a problem. They feel like a solution. A solution to your intense emotions, a solution to your lack of control. So in the midst of fixing yourself, you find your brain telling you to stop. You find your body seizing up and suddenly you're in a whirlwind of crippling anxiety, and the only way to calm yourself down enough to be able to breathe properly is to succumb to the bad, self destructive habits that got you here in the first place.
–Katie
The Internet provides an outlet via

instagram

, pinterest, and pro-ana

blogs

for wannarexics to post "thin-spirational" pictures of emaciated models, trade dieting tips or vent their frustration about their bodies. "Real" anorexics and the medical establishment alike decry these girls as attention seekers making a farce of a serious illness, which is an underestimation of the real pain they're in as well as the dangers inherent in flirting with disordered eating habits. 
In my opinion, it is

 
preposterous 
to think that pro-ana websites could actually 
help
 some recover.
Remember this 

rant

 I went on when a pro-ana blog tried to add themselves to my Coast to Coast map. This is something I will never condone and expose my readers too. Then again when a sexy skeleton halloween costume emerged, which is glamorizing a debilitating disorder, not a 

laughing matter

. And how downright disgusting is this piece written by a male on 

reasons to date a girl with an eating disorder

?
Don't get me wrong, I do applaud Sophia for boycotting a store that promoted shirts encouraging young girls to eat less, I do not support her in her stance that zero is not a size, because I am a zero and am on a never-ending journey to make peace with my appearance. It's irrational to expect every woman to be a size zero, but just as crazy to expect no one to be a zero. I appreciated this perspective which hit home with me: 
not all real women have curves.
Disclaimer: If you feel you have similar issues or need help, please do not hesitate to contact me directly: x3shanerx3@gmail.com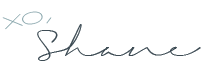 Tweet