a. That's so neat, tell me more! How can I get started? What's your site? I want to explore it!
So, I bring you my favorite professional pieces from Target—completely affordable on this broke (former) college student budget.
I can't imagine anything better than a cheetah print!
I love this polka-dot blouse. With a cardigan or blazer, it'd still be work-appropriate.
This blouse is such a fun, unique pattern.
I love these pants! They're a fun color and pattern, yet would still look professional with a nice blouse and blazer.
The navy pant is a nice neutral, yet still gives a touch of color.
I love colored blazers but hate paying a bunch of money for them. I could definitely see myself investing in this affordable, fun piece.
This neutral gray with a pop of black is so professional.
I also need to invest in a nice satchel to carry work files to and from home. This one looks perfect!

I've decided to give away one month of ad space (in the month of March) on Becoming Bailey! One lucky winner will win this ad space. The giveaway ends on February 9th!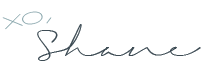 Tweet