1. What would you attempt to do if you knew you could not fail?
First, I would attempt to move mountains. Kidding. I'm such a perfectionist that this is a tough question for me. I would interview for Google upon graduation, yikes! Get's my heart racing just thinking about it.
2. If you had only six months left to live, what would you do with that time?
Volunteer in a third world country.
Visit all 7 Wonders of the World.
Visit the Amazon Rainforest.
Get married on the beach at sunset.
Help impoverished kids in Kenya.
Ride a tortoise in the Galapagos islands.
Hold a "Free Hugs" sign in the middle of downtown Columbus for an entire day.
Share a kiss under the eiffel tower in the pouring rain.
Think I'll have time for all of this? Either way, it's happening.
3. If a front page news article was written on you, what would the title be?
The Girl with Gold Intentions.
4. What is your bigges
t pet peeve?
Intolerant and/or racist people. Seriously. I could never date, marry, caboodle with a racist. It irks me to no end. I understand that some people are just raised that way, but in my opinion it's no excuse. Keep your negative opinions to yourself if they are lurking in your brain.
5. What is your favorite chick flick movie?
Anyone who knows me knows I don't "do" chick flick movies. Perhaps because my father started me on horror flicks at the ripe old age of 4. My one and only guilty pleasure chick show is the Bachelore(tte). But movie wise, I much prefer Jeepers Creepers, Friday the 13th, and even the Saw series (GASP!)
——————————————————————————————————
When visiting a new blog, what's the first thing you do?
Snoop around their About Me page before leaving a comment introducing yourself and becoming a fan? Your About Me is very important because it establishes who you are as a blogger which ultimately draws peoples attention and keeps them coming back to read your content!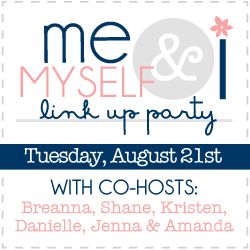 -Link-up goes live the 3rd Tuesday every month and stays open for one week.
-There will be 5 questions to answer each month, posted in advance so that you have plenty of time to write a post.
**We are looking for submissions for questions for future weeks, fill out this GoogleDoc if you have any snazzy ideas!
Rules Schmules:
1. We ask that you follow each of the co-hosts
2. Pretty please grab the button and place it in your posts & perhaps
put it into your side bar to help spread the word 🙂 Don't worry, we won't kick ya out if you don't…we're not Blog Snobs 😉
3. Click on a few other bloggers and make new friends!
Easy peasy lemon squeezy, right?