5. The NFL is ready to accept women again. Madonna is the first female invited to headline the Super Bowl halftime show since Janet Jackson did what she did back in 2004 (technically, last year's act, the Black Eyes Peas were 25% female, but I think we'd all like to just forget that happened). Madonna has guaranteed that there will be no wardrobe malfunctions, thank the lord!
4. Madonna is doing this for free (kind of). Curious about how much the NFL is paying Madonna for her services on Sunday? Nada. Madonna's doing this one for free. What she does get out of the deal is extreme exposure. More than 110 million people are going to watch this, and she has 12 minutes to do whatever she wants with.
3. Halftime gets stretched immensely. A normal regular-season halftime breezes by at just 12 minutes in length. The Super Bowl is more than double that at 31 minutes. Twelve of those will be occupied by Madonna, while the other 19 are for setting up and tearing down the stage. The Patriots have prepared themselves for the extended halftime by taking a 31-minute break in practice.
2. Flushing the toilet at halftime is perfectly fine. There's an urban legend that our nation's sewer system is put on the brink of collapse during halftime of the Super Bowl, since so many people will be flushing at the same time. It's not. Who better to debunk this myth than the fine people at Roto-Rooter? They say it's fine ‒ municipal sewer systems are built to handle anything you can throw at them. Flush freely.
1. The "Girls Gone Wild" guy does not want you to hear "Girls Gone Wild." A bizarre legal battle is unfolding between two people who have both done their best to convince young women that it's cool to take their clothes off. One of the tracks on Madonna's new album is titled "Girls Gone Wild," and Joe Francis, the proprietor of the popular DVD series of the same name, has threatened to sue Madonna if she plays the song at halftime.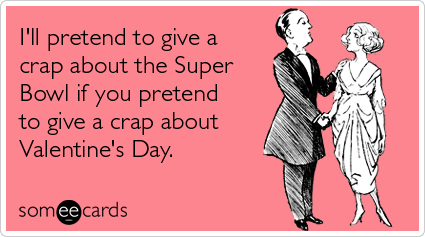 After all is said an done, Puppy Bowl VIII anyone??